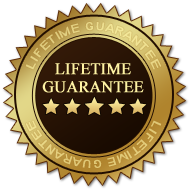 Sewell Shutters, Inc. takes great pride in providing the finest plantation shutters available today. We prove this by offering a warranty that is unrivaled by any other manufacturer.
We guarantee the manufacture quality of our premium plantation shutters. Sewell Shutters Inc. is proud to offer a Lifetime Guarantee on workmanship and materials upon installation of your new plantation shutters. Unacceptable warpage is considered more than 3/8″ rise when the panel is on a flat surface.
Best paint warranty available on plantation shutters. Most paint manufacturers only warranty their paints for a maximum of three years. We are so confident in the quality of our premium plantation shutters that we extend your paint and finish warranty an extra two years at no additional cost. That's an unparalleled warranty of five years.
What's NOT covered by the warranty: Damage due to abuse, weather, water or malicious or intentional damage.
Warranty IS Transferable.